Troubleshooting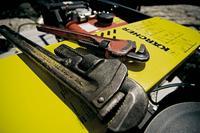 We have listed here some troubleshooting steps to help you with your pressure washer on the rare occasion that you may experience a problem:
As a first step, following the procedure below can help to deal with air blocks, pulsing and sticking bypass valves.
1. Disconnect the machine from the electricity supply
2. Remove black high-pressure hose
3. Connect garden hose to machine using a free flow connector
4. Turn on outside tap
5. Leave water to run through machine for 5 minutes
6. Reconnect black high-pressure hose
7. Press trigger on gun to draw water through hose and into gun and jet pipe
8. Reconnect machine to electricty supply
9. Turn machine on using the on/off dial
10. By operating your trigger gun the machine should now be working correctly

If you are still experiencing problems, please follow the steps below:

Problem: The pressure washer is vibrating.
Is there sufficient water flow? This can cause a high pressure hose to vibrate more than normal.
1-4 Series Machines will use up-to 6 litres per minute
5-7 Series Machines will use up-to 9 litres per minute Ensure that your outdoor tap is fully on and that your garden hose is completely uncoiled.

Problem: The pressure washer is pulsing.
If the machine is pulsing when on standby, is the garden hose supplying the pressure washer fully uncoiled?
If the machine is pulsing whilst in use, it may be that the accessory you are using has a blockage. Clear by soaking the accessory in warm soapy water and then rinsing out under the tap.
Problem: The pressure washer cuts out.
If your machine cuts out occasionally, it could be because you are using an electric extension cable. Extension cables must always be 13 amp constant rating and no longer than 10 metres. Please check your operating instructions for correct specifications.
To store your pressure washer for winter:
Turn off the pressure washer by turning the dial at the front of the machine to 0. Turn off your outdoor tap. Detach your hosepipe from the tap and remove the hosepipe from the front of the pressure washer.
Detach any accessories from the trigger gun and tip away the water in the accessory.
To drain down your machine, press the trigger on the gun and a small amount of water will flow out of the gun and then stop. You have now drained your machine.
To protect your machine from frost damage you should always drain down your machine before spells of cold weather or before storing it for long periods of time. Store your machine in a frost-safe environment.

Still experiencing problems? Please contact Kärcher Outlet Customer Services and we will be pleased to assist.